Sapporo's winter is notoriously cold, which has led to the development of some famous foods guaranteed to warm you up and help beat the cold! Sapporo is the home of both miso ramen and soup curry, both of which are perfect to warm you up from the inside out! Here is our top 5 list of restaurants guaranteed to warm you up after a day on the ski slopes, or visiting the Sapporo Snow Festival:
5. Sapporo Ramen Kyowakoku (Ramen Republic)
Sapporo Ramen Kyowakoku (Republic) is a mini ramen village on the 10th floor of the ESTA Building at Sapporo Station. 8 of Hokkaido's most famous ramen shops are gathered together here, representing Hokkaido's four great ramen areas; Sapporo, Asahikawa, Hakodate, and Kushiro. It's one of the best spots to choose from a variety of ramen shops in one convenient location.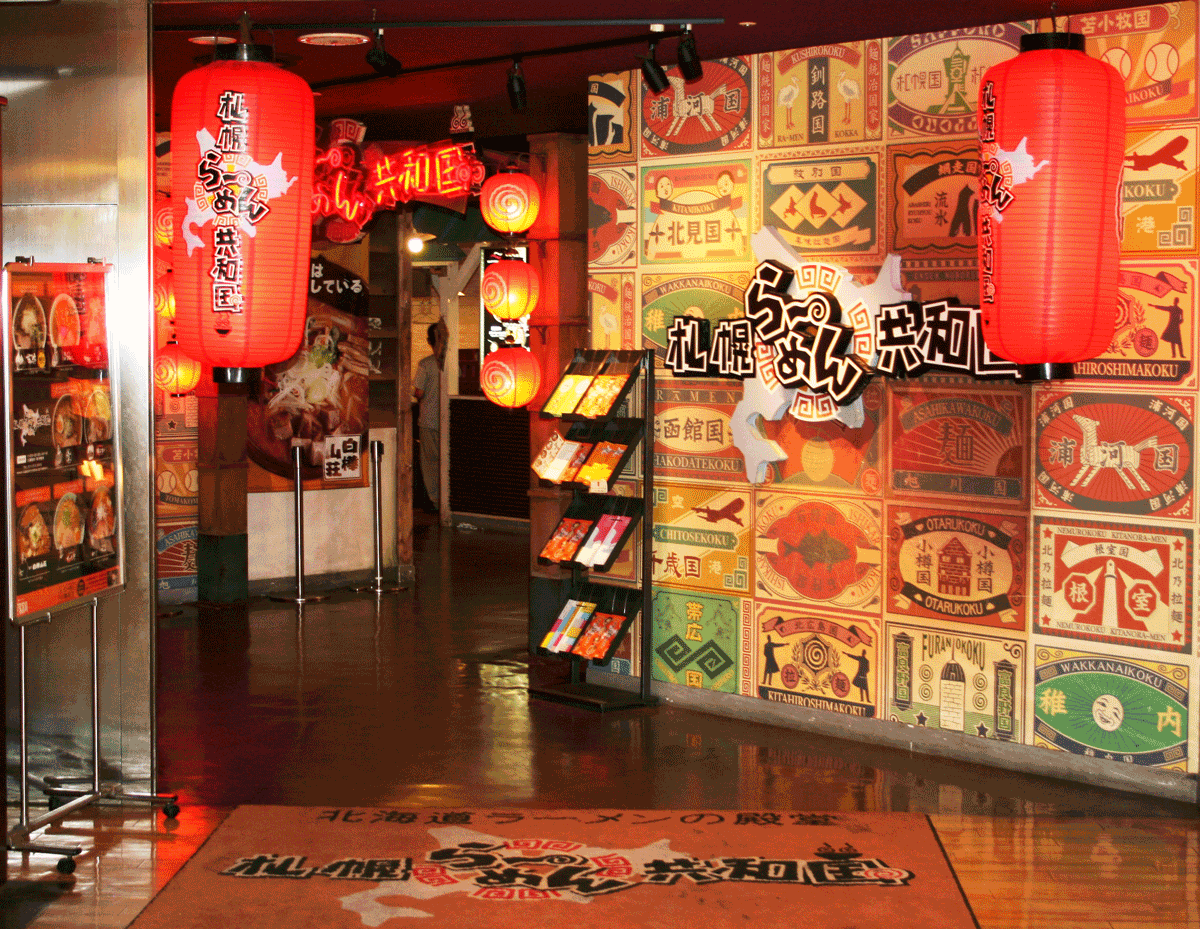 Read all about Sapporo Ramen Kyowakoku here: http://seesapporo.com/place/sapporo-ramen-kyowakoku-republic
4. Aji no Sanpei Ramen
Aji no Sanpei ramen noodle shop is synonymous with famous Sapporo miso ramen since the father of the current owner, Morito Omiya, was the creator of miso ramen and curly noodles back in 1954. Now miso ramen is renowned as Sapporo's regional specialty ramen. Aji no Sanpei gets points both for history and for location; being right in the center of the Susukino entertainment district means that it's central to everything and convenient at just about any time of day or night.
Read more about Aji no Sanpei here: http://seesapporo.com/place/aji-no-sanpei
3. Goemon Ramen
Goemon Ramen is a unique shop with old fashioned character. It's been in business for over 10 years at its location near Tanuki Koji with little change, and for good reason; why alter a winning formula? The shop is not fancy, nothing more than a one room shack containing a counter, stools, and open kitchen with steaming pots of ramen noodles, but that's all you need. The excellent ramen, reasonable prices, and warm friendly neighborhood atmosphere make this a must-visit for ramen fans. It's also a great place to duck in and get out of the cold while visiting Odori Park or the Tanuki Koji Shopping Arcade.


Read more about Goemon Ramen here: http://seesapporo.com/place/goemon-ramen
2. Bem Bera Network Soup Curry
Bem Bera Network is one of the best soup curry shops in Sapporo. It's a small shop, with only a few tables and an interior decorated with a jumble of knick-knacks, brightly colored furniture, old posters, and retro tin signs for everything from Spam to Coca-Cola. It's definitely a casual, laid-back atmosphere, but there's great care and attention given to the soup curry. The broth is a light, non-oily chicken base that can be ordered in varying levels of spiciness. Levels 1 and 2 are free, with each hotter level after that an additional ¥50 yen for those who really want a spice challenge. Bem Bera gets points both for its great food, interesting decor, and central location just off of Tanuki Koji Shopping Arcade, and a block and a half south of Odori Park.


Read more about Bem Bera Network Soup Curry here: http://seesapporo.com/place/bem-bera-network-soup-curry
1. Soup Curry Lavi
Although considered to be a relatively new dish, soup curry has been one of the signature foods of Hokkaido. Soup curry Lavi is a chain restaurant which operates many stores across the city of Sapporo, and this branch is located on the 10th floor of ESTA, the building just adjacent to the JR Sapporo Station and above BIC Camera. Decorated with purples, greens, yellows, and reds, the restaurant's theme has somewhat a South-east Asian resort feel. The store seats about 30, and one can expect a crowd during both lunch and dinner. Soup Curry Lavi wins as best restaurant in Sapporo to warm up at both for its delicious, spicy soup curry, and the fact that it's always toasty warm at Sapporo Station, with its labyrinth of interconnected shopping areas and underground passages that keep you out of the cold!


Read all about Soup Curry Lavi here: http://seesapporo.com/place/soup-curry-lavi-in-esta