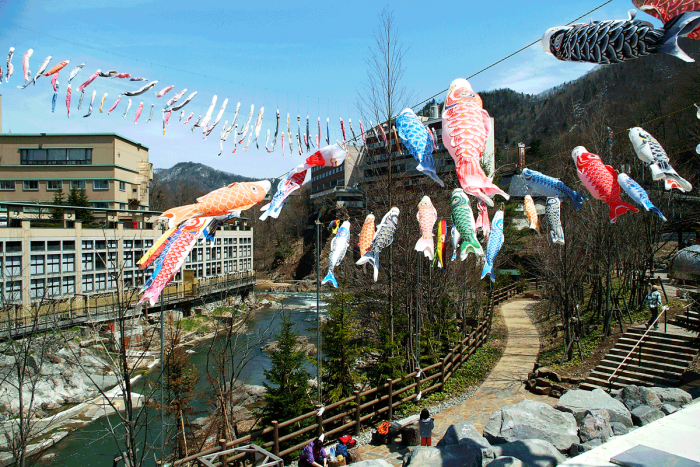 May 5th is Children's Day in Japan, where families raise a line of carp shaped streamers in front of their home, with one carp for each family member.
In the past this festival was known as Boy's Day, with the emphasis being on the oldest son, who got the biggest streamer. The significance of the Carp comes from an old Chinese legend that tells that if carp can make it to the top of a certain river in China it can become a dragon. The koinobori is therefore a symbol of parent's wish that their sons will endure and persist hardships to go on to great things. These days there's less of a gender differentiation (though girls still get their own Girl's Day on March 3rd). At Jozankei Onsen (hot springs) the local community puts up over 350 carp streamers which are strung across the stream that runs through the village. The colorful carp dancing over the deep gorge above the stream make for a spectacular show, made all the more enjoyable when viewed from the comfort of a rotenburo (outdoor hot spring).
Jozankei Onsen is located in a district of Sapporo, but it's far enough from Sapporo's downtown that it's essentially its own township. To get to Jozankei you'll have to take a bus or rental car, as it's about an hour's drive from Sapporo Station. Fortunately many of the onsens offer shuttle bus service, and Chuo Bus runs a regular service so it's convenient to get to. An overnight stay at one of the many relaxing onsens in the Jozankei area is highly recommended rather than trying to make it just a day trip.
This post is also available in: Japanese