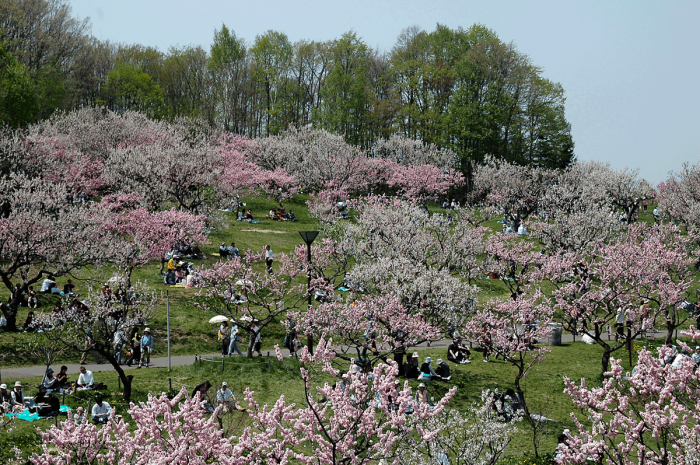 Hiraoka Park is a free park administered by Sapporo city, with over 1,200 ume (Japanese plum) trees. In the spring these trees blossom beautifully as a pink or a pale green/white flower, and are second in popularity only to the sakura (cherry blossoms) that follow a few weeks later.
The Ume Festival at Hiraoka Park is interesting in that it includes not only the traditional blossom viewing and picnicking, but also many vendors selling sweets and delicacies made from ume. Umeboshi is one of the staples of Japanese cuisine and is made from pickled ume. The result is a very salty, sour plum which is usually used in onigiri (rice balls). In addition to umeboshi there is also ume flavored ice cream, ume candies, etc. Hiraoka Park also has a Park Golf course (a hybrid variation of golf, minigolf and croquet), a baseball diamond, tennis courts and a Japanese croquet ground.
It's fairly far from downtown Sapporo, so it's best to get there by either bus or rental car. Take the Chuo Bus (Oo 66, 67) Hiraoka New Town line at Oyachi Subway Station (Tozai Line) to Hiraoka 5-jo 6-chome, then the bus from there. During the ume blossom season shuttle buses are available from Oyachi and Fukuzumi subway stations (fare required).
This post is also available in: Japanese