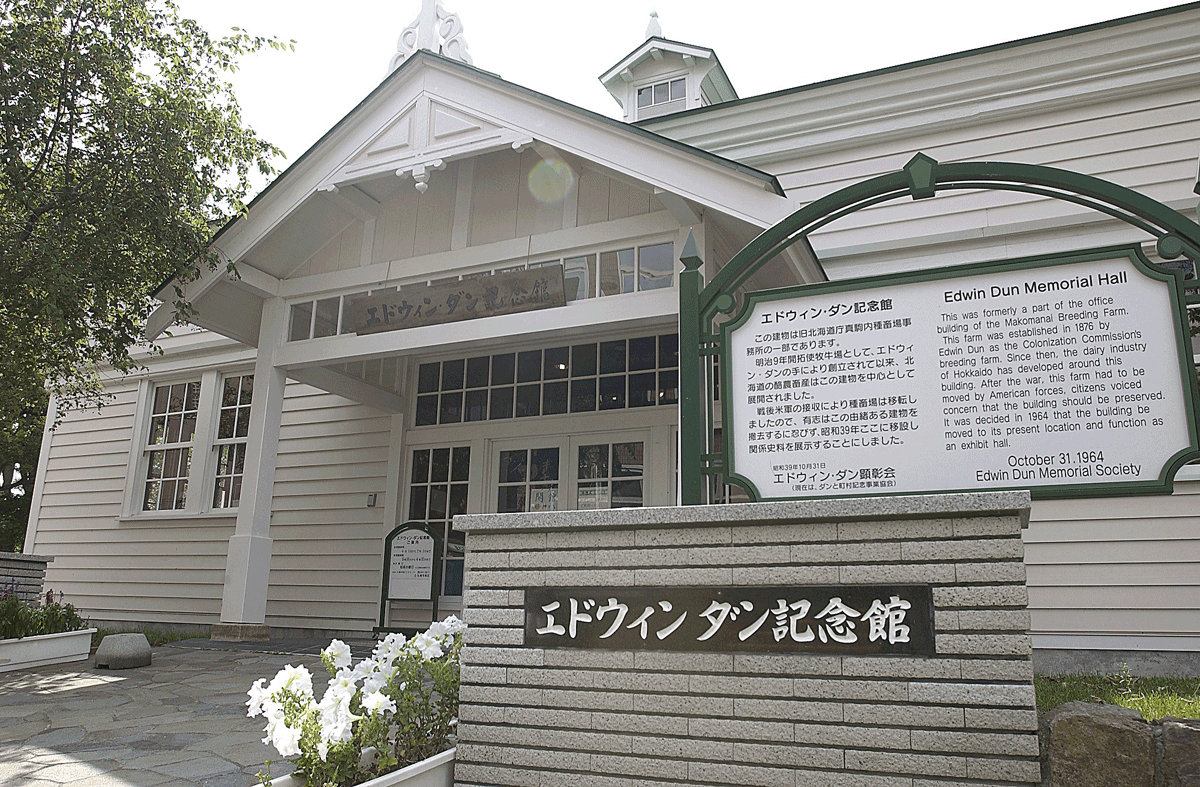 Edwin Dun was an American cattle rancher who was invited to come and assist with the development of Hokkaido.
He stayed from 1868-1912, assisting with the agricultural development of Hokkaido, and becoming known as the father of dairy farming in Hokkaido. The Edwin Dun Memorial Museum stands on the former site of the first cowshed in Hokkaido. The surrounding property has now been turned into the Edwin Dun Memorial Park. The building which houses the museum dates from the same time period and was formerly the Makomanai Breeding Stock Field Office. It was moved to this spot and the museum opened in 1964. On display are various items related to Dun's life and works, as well as pairings by Masumi Ichiki.
During Dun's time in Sapporo he engaged in a number of agricultural projects, among them the establishment of farm horse and race horse ranches, including the first two thoroughbred stallions in Japan, a pig farm with 80 hogs brought from the United States, and a dairy farm, together with factories for the production of butter and cheese. He also planted a number of experimental lots to research the types of crops most suited to Hokkaido's climate, and built Hokkaido's first horse race track. With the assistance of Louis Boehmer, who discovered native hops in Hokkaido, he established a successful beer brewery, the forerunner of modern Sapporo Breweries. As such he can be said to the the father not only of dairy farming, but also Sapporo's extremely lucrative beer industry and horse racing as well! The museum and park are located south of Sapporo near Makomanai Park.
The best way to get there via public transport is on the Sapporo Subway. Take the Namboku Line (green line) from Sapporo Station or Odori Station and get off at Makomanai Station. From there the museum is about a 10 minute walk to the west. The museum itself is somewhat small, but history buffs will find plenty of interest. It's recommended for those with an interest in the history and development of Hokkaido, particularly its agricultural development.
This post is also available in: Japanese